1 'ME' and '61,360' of YOU…I love your interactions but sometime I miss things 🙂
Having said that, I am doing my best to keep up with you.
Thank you to each and every one of you who has watched the Jac Diary and to all of you who have left comments on the blog or on Facebook. It is really me who is 'liking' them and responding to them! I also read all the comments on the blog personally. I cannot promise I will aways keep up. I do have a husband, three sons, a barn full of horses, and laundry to do! But I will do my best.
Here is a question that came through the blog comments;
Stacy, I have a question. Why didn't you opt to desensitize Jac to the stick and string prior to your first
session with it (I think episode 3)? I'm just wondering because in the past, I have seen many folks get the horse used to the lunge whip, carrot stick, or what have you touching them and flipping around them before they begin to teach the horse to lunge. I'm always curious to learn new tools and techniques and your method spiked my curiosity:) Thank you!
My response:
I was basically doing a combo. If you watch around 7:40 I explain how I was 'desensitizing' and it turned into lunging. A combo of what you were asking.
Episode 1; I was watching him. Episode 2; I carried the stick n string as an extension of my body. Episode 3; was both 'desensitizing' and 'sensitizing', if we want to use those words.
Before began desensitizing I was making sure I could keep him away from me. Making sure he respected my space and would move away….away being the key word because that would keep us both safe. Notice how far away I stay from him….and require him to stay away from me. We both need to 'earn' the right to be in each others space.
I would have had serious trouble directly approaching 'desensitizing' without somehow moving his feet first because he was so green. Also, because he showed signs of confidence (1:22) bordering on aggression I needed to know he respected me.
So in short I;
moved his feet
respect my space
desensitize
Having said all that, you are correct in saying there are many options.
I could have set up a round pen, controlled his direction and movement, taught him to turn and face me, and then stand for the desensitizing. Pretty traditional but essentially it is;
moved his feet
respect my space
desensitize
I also could have stood in the door way of the stall, moved him around by reaching in with a lunge whip, released pressure when he stood in a certain position, discouraged sticking his butt in my direction, and eventually been able to rub him all over with the whip. Essentially it would have been:
moved his feet
respect my space
desensitize
I always try to look for the 'big picture' and then approach each horse and situation as an individual. The variety is what I enjoy…correction….LOVE about training horses.
Check out this video to see a 'less traditional' application of training. I opted for this method, which I made up on the spot, because my friend had just bought a BIG filly that was unhalter broke and I didn't want to work her as hard as traditional round penning would have required. So I applied the round pen 'theory' for use in a stall.
This video is one of four, the others are here: http://youtu.be/vfL5k73xZSA, http://youtu.be/rzf44IRfE7g, http://youtu.be/kQUez-COkpQ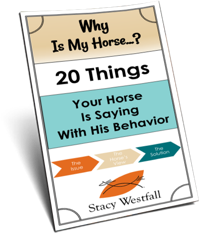 FREE PDF DOWNLOAD
WHY IS MY HORSE...?
No one taught you the skills you need to work through these things.
Riders often encounter self-doubt, fear, anxiety, frustration, and other challenging emotions at the barn. The emotions coursing through your body can add clarity, or can make your cues indistinguishable for your horse.
Learning these skills and begin communicating clearly with your horse.
Click here to learn more.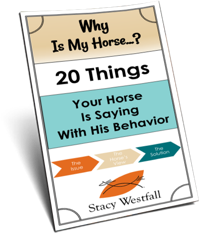 Free PDF Download "Why is my horse...20 things your horse is saying with his behavior"
PDF will be delivered to the email address you enter as will weekly tips from Stacy. Totally free. Unsubscribe anytime.