"I am interested in Presto's story. I remember when you adopted 2 colts. I like the name. Did you come up with that or was he given the name Press On Regardless? Thank you for sharing. I will look forward to reading about Presto's journey."-Becky N.
Thanks for the question, Becky!
I love his name too!
Victoria Goss, founder of Last Chance Corral is the one who gave him both his 'full' name, Press on Regardless and his nickname, Presto.
When I adopted Presto he even came with a tiny little certificate that gave his basic information as well as his name. (see attached photo)
The number #117 in the top left corner represents that he was foal number one hundred and seventeen that year to arrive at Last Chance.
His arrival day was 5/6/16 and he was a bay colt, with spots on his rump as drawn in the picture.
His age was 2-3 days.
His breed was guessed at Thoroughbred and Appaloosa cross.
And he was given the name: Press on Regardless.
I like that they underlined Regardless.
Presto faced many challenges that he had no control over. Like the other foals, he was taken from his mother earlier than he would have naturally been weaned.
He had to learn to drink from a bucket instead of nursing.
He became depressed.
He became sick.
He required medication and tube feeding.
He didn't feel good.
He started to get better…and then got sick again.
More medications.
More help that didn't feel helpful.
I like to think that he learned some good things during this time too.
I know the staff and volunteers spent extra time with him.
I know they monitored him with a more experienced eye than I could have given him during this critical time.
I know they scratched and rubbed him so well that to this day when I begin brushing him…he steps back and leans in to enjoy more.
I know that Presto had a rough start.
I know that Last Chance Corral saved his life.
And I like to think that his story of learning to #PressonRegardless is one that started with a bucket of milk but will lead to so much more.
When I stepped into his life Presto had already learned many tough lessons. I wish I could promise that he will never see another hard time. I know I will do my best…but I also know that life often throws curve balls that we can't see coming.
But you know, maybe he doesn't need a promise of a trouble-free life.
Sometimes, when I'm leading the 16.1 hand horse Presto has become, I realize that despite everything he greets each day with his silly, optimistic outlook and I think, 'maybe I'm not the teacher…maybe I'm the student here.'
And the lesson is all wrapped up in his name: Press on Regardless.
---
I've owned Presto now for four years. He has grown so much and I'm finally ready to start sharing his adventures

What questions do you have for me?
I'll be posting daily from now till Monday and if you leave a question on one of my posts or blogs, I'll be giving away a t-shirt to one winner! Thanks to Equithrive for sponsoring this!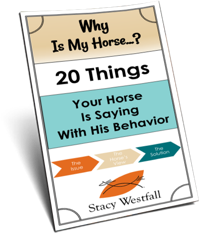 FREE PDF DOWNLOAD
WHY IS MY HORSE...?
No one taught you the skills you need to work through these things.
Riders often encounter self-doubt, fear, anxiety, frustration, and other challenging emotions at the barn. The emotions coursing through your body can add clarity, or can make your cues indistinguishable for your horse.
Learning these skills and begin communicating clearly with your horse.
Click here to learn more.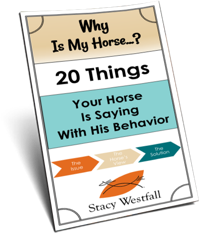 Free PDF Download "Why is my horse...20 things your horse is saying with his behavior"
PDF will be delivered to the email address you enter as will weekly tips from Stacy. Totally free. Unsubscribe anytime.