"Stacy, how did you make the decision to choose Presto out of so many darlings?"
From the first time I saw Last Chance Corral adopting went on my bucket list. Something I was determined to do at some point but I also believe that the timing has to be right.
In the spring of 2016 Victoria, from Last Chance Corral sent me a text. I had made a music video featuring her foals two years before and had helped raise awareness in the years following.
Victoria told me that they were full to capacity. When Last Chance is full it means they cannot go and pick up more foals that are in need. She asked me if I could help spread the word.
Sure!
And that's when it happened.
I clicked on her site to see what I could share and I saw #117-"Press on Regardless" and I knew I had found my next horse!
It sounds a little crazy to me when I say it and on one level it looks very spontaneous. Yet on another level, I had been considering this for two years. I knew I had the appropriate facility, the understanding and the financial means to take on another horse.
It reminds me a bit of the quote:
"Luck is what happens when preparation meets opportunity." – Seneca
I knew Press On Regardless this was the horse I wanted to invest my time, money and heart into.
I turned from my phone to my husband and said, "I want to buy a horse I've never seen in person from a photo I found on the internet."
And as they say…the rest is history!
---
I've owned Presto now for four years. He has grown so much and I'm finally ready to start sharing his adventures
What questions do you have for me?
I'll be posting daily from now till Monday and if you leave a question on one of my posts or blogs, I'll be giving away a t-shirt to one winner!
#PressonRegardless #Presto #Equithrive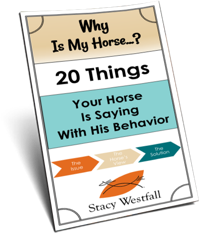 FREE PDF DOWNLOAD
WHY IS MY HORSE...?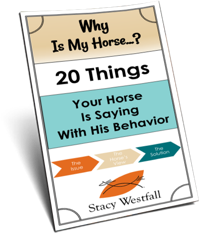 Free PDF Download "Why is my horse...20 things your horse is saying with his behavior"
PDF will be delivered to the email address you enter as will weekly tips from Stacy. Totally free. Unsubscribe anytime.