I made this video at Last Chance Corral two years before deciding to adopt Presto.
I had visited Last Chance before but this time I stayed for 24 hours. During that stay, I knew I was gathering information for something I wanted to do someday: adopt a nurse mare foal.
I learned a lot of practical things during my short stay like how to mix milk and how to wash butts.
I also learned some emotional things like foals become depressed when they leave their moms this young and that they often sleep in small piles like puppies.
I've owned Presto now for four years. He has grown so much and I'm finally ready to start sharing his adventures ?
What questions do you have for me?
I'll be posting daily from now till Monday and if you leave a question on one of my posts or blogs, I'll be giving away a t-shirt to one winner! Thanks to Equithrive for sponsoring this!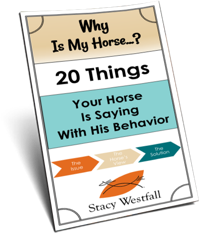 FREE PDF DOWNLOAD
WHY IS MY HORSE...?
No one taught you the skills you need to work through these things.
Riders often encounter self-doubt, fear, anxiety, frustration, and other challenging emotions at the barn. The emotions coursing through your body can add clarity, or can make your cues indistinguishable for your horse.
Learning these skills and begin communicating clearly with your horse.
Click here to learn more.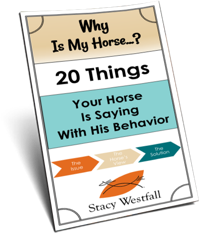 Free PDF Download "Why is my horse...20 things your horse is saying with his behavior"
PDF will be delivered to the email address you enter as will weekly tips from Stacy. Totally free. Unsubscribe anytime.