As my career has grown over the years the challenges have changed. There were difficulties in the beginning as we were newly married, starting a new business and having kids…all at the same time. I get tired just remembering it. There have been challenges of almost every size, shape and color imaginable; tractor break downs, lack of money, disappointed customers, spreader break downs, shortage of money, injuries to horses and humans…the list could go on and on.
Thankfully as our business has grown, as well as our ability to budget and plan much of this has improved. We can now predict the future in many cases…tires without tread blow more often…so we plan better.
But one area has gotten worse.
I can see potential in horses better. And it makes it hard.
While this should be an asset, and it is for the most part, it is also a difficulty. I am addicted to horses and I like to train them. I can see the potential in a mini and enjoy that process as much as the potential in a reining horse. Some people would say, "Train the reiner, it will be worth more in the end" but I see the horse as an individual more strongly than I do as a profit margin. If buying and selling horses was my business I would have gone broke years ago as I value a good home higher than the highest bidder.
While I have had to pass on the opportunity to own and/or train several horse in the months after selling our house the reality is that there will never be enough time for me to train all the horses I wish I could. Instead I must have faith that there are other good people out there who will offer these horses opportunity.
To learn more about New Vocations Race Horse Adoption you can visit them at www.horseadoption.com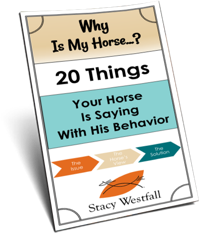 FREE PDF DOWNLOAD
WHY IS MY HORSE...?
No one taught you the skills you need to work through these things.
Riders often encounter self-doubt, fear, anxiety, frustration, and other challenging emotions at the barn. The emotions coursing through your body can add clarity, or can make your cues indistinguishable for your horse.
Learning these skills and begin communicating clearly with your horse.
Click here to learn more.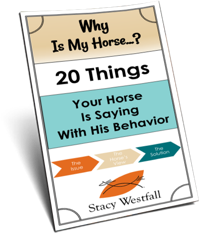 Free PDF Download "Why is my horse...20 things your horse is saying with his behavior"
PDF will be delivered to the email address you enter as will weekly tips from Stacy. Totally free. Unsubscribe anytime.