We visited a tea shop that had some 'conversation starters' laying on the table. They were full of questions like:
If you could do something dangerous just once with no risk, what would you do?

If you had a million dollars, what would you do with it?

Would you rather live for a week in the past or the future?
I'm going to spare you from ALL of my answers but I will answer the question, "If money were no object, what kind of party would you throw and where?"
I would throw a party in a very large, old castle. The theme would be a masquerade ball set in medieval times. All guest would be dressed up in period clothing and there would be rooms full of period clothing that you could go change into.
A feast would be going on the whole time, tables and tables of food.
Mini's would be pulling carts with appetizers on them around the yard. There would be jousting and carriage rides, archery and sword fighting….just keep going back to that clothing room for the appropriate attire.
A ball room would be filled with music and dancing (dancing lessons in another room to the side, lol).
Oh, and like any good medieval party it would last for almost a week.
*        *        *
It was very entertaining to sit around for an hour as a family to ask and answer these questions. We all learned things about each other that surprised us and they really were great conversation starters.
How would you answer one of these question? All of my answers revolve around horses…what does that say about me?!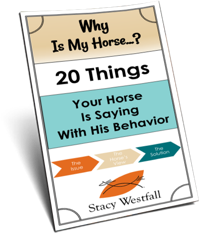 FREE PDF DOWNLOAD
WHY IS MY HORSE...?
No one taught you the skills you need to work through these things.
Riders often encounter self-doubt, fear, anxiety, frustration, and other challenging emotions at the barn. The emotions coursing through your body can add clarity, or can make your cues indistinguishable for your horse.
Learning these skills and begin communicating clearly with your horse.
Click here to learn more.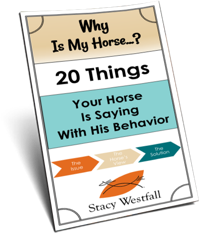 Free PDF Download "Why is my horse...20 things your horse is saying with his behavior"
PDF will be delivered to the email address you enter as will weekly tips from Stacy. Totally free. Unsubscribe anytime.