When I set up the video camera on day seven of teaching Newt to stand on the box I didn't know exactly what I would do with the footage. I did know that I was spending a lot of time laughing at my horse…and I was really enjoying watching him learn. As I stood there watching Newt, it reminded me of watching my children when they were young and were playing on the playground. What age does a child start climbing to explore their surrounding? How many mistakes do they make while they learn about gravity, their body and their surroundings? And how do we respond as parents?
That last question is a biggie. All parents should protect their children. Some parents protect too much, restricting anything that can be perceived as dangerous…even if the real risk is low. Other parents allow so much freedom that their kids appear to run wild. It is obvious that there is a wide view out there as to what children should be allowed, encouraged or restricted from doing.
I believe that a horse can learn responsibility and that they learn it in a very similar way as children. It is our responsibility to challenge them but to also set them up for success. I show my horse the answer several times and then allow him to find the answer…then repeat. Mistakes are allowed but the risk is reduced because I do the training in small steps. Last year Newt crossed a man-made 'bridge' at home similar to one that would be found in a trail class. Now he is learning to carefully place his feet as he stands on this small box. Maybe next week we will be walking the ridge of a canyon…
I didn't intend to use the audio from this video when I was filming it but many of you asked to see more of Newt and the bridge. This video is from day ten and is the first day that Newt stands on the box. I left the original audio where I am talking to my husband, Jesse, and Newt. Yep, I talk with my horses when no one is watching.
If you watch nothing else, watch from the four minute mark until the end. What was captured on film in that minute and a half was a total accident…but is hysterically funny!
If you would like to see some of day seven: click here. 
If you would like to know WHY I am teaching Newt this: click here.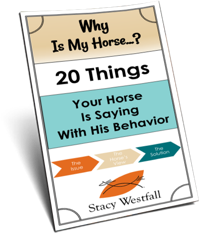 FREE PDF DOWNLOAD
WHY IS MY HORSE...?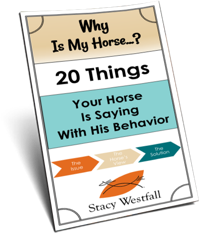 Free PDF Download "Why is my horse...20 things your horse is saying with his behavior"
PDF will be delivered to the email address you enter as will weekly tips from Stacy. Totally free. Unsubscribe anytime.