This is a video of Newt, my horse, trying to find his balance standing on a wooden box. Newt had previously been trained to cross over a wooden bridge, so when he first saw this box…he walked straight over it. For each of the seven days prior to this I spent a few minutes a day asking Newt to step onto the box. His first response was to want to walk directly over it. To change this, I asked him to step one front foot up and then immediately asked him back off the box. This resulted in Newt slowing down instead of trying to walk straight over it.
Next I asked for two front feet up and then asked him to back off the box. During this phase Newt figured out how far forward he could step until he found the front edge of the box. He even tried to step directly over it in a very wide straddle! If he tried to step to far I would ask him to back up. He did step off the front and even lost his balance and slipped off the front without harm.
Now that he knows where the front edge of the box is, and understands that I don't want him stepping off the front, he is now stepping forward with his hind feet. What I love about this video is that you can see how s-l-o-w Newt thinks. Many people would have asked him to do something during the long period while he was standing there. I like taking my time. It is funny to watch him mentally process this nice and slow.
It surprised me that Newt lost his balance so many times when he picked his last hind foot up off the ground. He seemed to think that he should counter balance by sticking that last leg out instead of adjusting his head. Another interesting observation to make about how Newt thinks. I love watching horses learn.
I have a bunch of this footage but I couldn't decide how to best use it. I have one version that is 25 minutes long but that seemed too long. How much of Newt's box footage would you like to see? How many more times do you think Newt had to practice before he found his balance?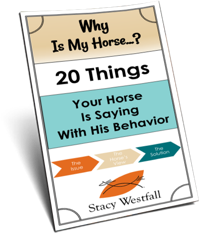 FREE PDF DOWNLOAD
WHY IS MY HORSE...?
No one taught you the skills you need to work through these things.
Riders often encounter self-doubt, fear, anxiety, frustration, and other challenging emotions at the barn. The emotions coursing through your body can add clarity, or can make your cues indistinguishable for your horse.
Learning these skills and begin communicating clearly with your horse.
Click here to learn more.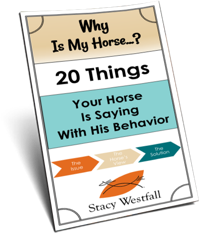 Free PDF Download "Why is my horse...20 things your horse is saying with his behavior"
PDF will be delivered to the email address you enter as will weekly tips from Stacy. Totally free. Unsubscribe anytime.