Recently, I was out riding with a lady whose horse had its head in the air and was looking off in the distance most of the time. The problem with a horse like that is they don't see the ground that is right in front of them and they tend to stumble when the ground in front of them drops or they trip over logs, sticks and things like that.
This horse made me think about people and where their attention is. I'm the kind of person that likes to live in the moment and that has advantages and disadvantages. I don't mind if my days are spontaneous and fun but sometimes the future sneaks up on me when I should see it coming. There are other people that live so far in the future that they don't see what might be going on right in front of them just like that horse.
The person who is worst off would be one that spends most of his time looking back with fear or regret about something that happened. It's important in life to look back and think about your past, just don't live there. Make sure you try to learn from your mistakes and take your new found wisdom into the future and live with hope that your life will be better because of what you learned. Written by Jesse Westfall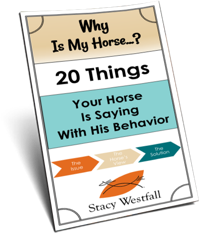 FREE PDF DOWNLOAD
WHY IS MY HORSE...?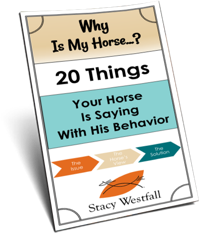 Free PDF Download "Why is my horse...20 things your horse is saying with his behavior"
PDF will be delivered to the email address you enter as will weekly tips from Stacy. Totally free. Unsubscribe anytime.