Dear Diary,
I can't decide if I was more surprised yesterday or today.
Yesterday we went for a ride. It was fun…until we got near these GIANTS. At least that is what I thought they were at first. But then I figured out it was just a huge wall. I think it was a can-yin like my mom told me about when I was a foal. I kept expecting to see some relatives but I didn't. There were little bits of grass that were REALLY tasty – and – a couple that I wish I hadn't tried. They were pokey and tasted bad.
Then today was a totally different kind of strange. Mom put me in a trailer that was great because it had alfalfa hay. I love alfalfa hay. Then some, well, strange looking guy jumped in beside me. I tried not to stare at him. I know it is rude…but his EARS WERE HUGE! I finally snuck a peek at him and found that he was staring at me. I guess he is OK. He didn't mess with the alfalfa so I was happy.
Well, time for bed. I'm still tired from yesterday.
I wonder what will happen tomorrow.
Newt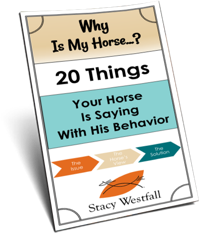 FREE PDF DOWNLOAD
WHY IS MY HORSE...?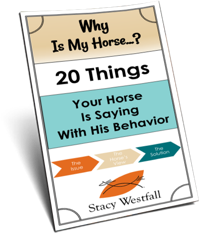 Free PDF Download "Why is my horse...20 things your horse is saying with his behavior"
PDF will be delivered to the email address you enter as will weekly tips from Stacy. Totally free. Unsubscribe anytime.