We started out this ride on the road where we parked the horse trailer but soon we were following an arroyo, a dry river bed, to find our way to this old homestead. Most of this was filmed on BLM land.
We have been staying in New Mexico at Kiva RV Park and Horse Motel which is owned by Robert and Diane Wiltshire. Diane volunteered to be our tour guide and I am so glad that she did, especially on this day.
Newt DID do some of the filming…both from on his head and from on his girth…motion sickness warning for that part, lol.
I have to admit that before riding here I was just thinking of New Mexico as a stop on the way to Arizona and California but now I can see why it is called the land of enchantment. Diane also gave us a book, Saddle Up, New Mexico: The Statewide Horse Trail and Travel Guide, I think she is trying to tempt us into coming back..and I think it is working!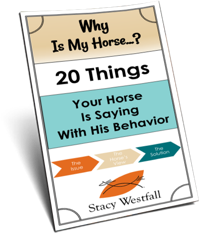 FREE PDF DOWNLOAD
WHY IS MY HORSE...?
No one taught you the skills you need to work through these things.
Riders often encounter self-doubt, fear, anxiety, frustration, and other challenging emotions at the barn. The emotions coursing through your body can add clarity, or can make your cues indistinguishable for your horse.
Learning these skills and begin communicating clearly with your horse.
Click here to learn more.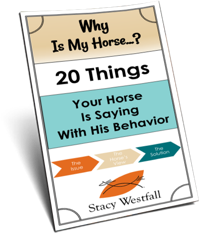 Free PDF Download "Why is my horse...20 things your horse is saying with his behavior"
PDF will be delivered to the email address you enter as will weekly tips from Stacy. Totally free. Unsubscribe anytime.