"Keep your adventures coming. I enjoy watching the videos of places you have been. I would like to go horseback riding SOMEWHERE??? I have not decided which state would be the best place. I would not bring my horses, I would have to use theirs. Do you have or does anyone have any ideas where my husband and I could stay and ride for a few days?"-Martina B.
I actually haven't done this! We are traveling with our own horses so we haven't needed to look for horse rentals. We are going to need to look for advice from everyone who reads this either here or on Facebook. If you have ever traveled and rented horses, please leave a comment written as a review of your total experience.
Were the horses well trained? Was the equipment safe? Did you go with a guide or self-guided? What were the trails like: beautiful, challenging, boring? Were they as advertised? What state and what time of year? Would you recommend it to a friend? How much did it cost? How many days did you ride? Did you rent a cabin and stay? How was the housing?  Give as much info as you are comfortable with.
Also feel free to post names of the companies that you loved, links to their sites, photos or links to videos!
I did a quick Google search and I found a website called Horse Rentals.com. I'm not in love with the lay out of the site and I suspect that a robot may be populating the pages BUT many of the links do work.
If you have ever rented horses for trail riding please tell us about it!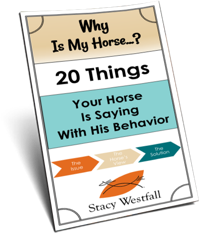 FREE PDF DOWNLOAD
WHY IS MY HORSE...?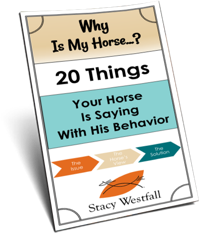 Free PDF Download "Why is my horse...20 things your horse is saying with his behavior"
PDF will be delivered to the email address you enter as will weekly tips from Stacy. Totally free. Unsubscribe anytime.