"Hi Stacy,   I love your work and often try to implement your methods. Recently, I read that people spread the rumour that you are

deaf. I know that you are not deaf, but it caught my attention because my five year old daughter IS deaf. She has a profound sensorineural loss in both ears. She uses cochlear implants. I have been teaching her to ride on her lease pony since April.

She has seen your videos and she thinks you are amazing. She said she wants to BE you! Her favourite is the 2011 video with "My Heart Will Go On". Her mouth visibly dropped open when you had your arms up with that cloak and THAT SPIN! Even my non-horsey parents were impressed.

My daughter, Lily, said she wants to learn to ride like you, I ride western myself and have promised her that her next pony we will try (she currently is learning english, I do both myself). I teach her at the moment due to difficulties as we can't find a trainer up to teaching a deaf child. Since April she has gotten rising and sitting trot, she is cantering, steering for herself on and off the long rein, and she has even jumped 60cm (on a miniature!).

If you are ever in England, it would make her ecstatically happy to meet you." Toni and Lily (and the boys).
Toni, thank you so much for writing to me. It sounds like you have an amazing daughter. I had never considered the difficulty of finding an instructor for a deaf child. I love a challenge so it would intrigue me to figure out the best way to achieve it. The great news is that many, many people learn by watching. My husband is one of those people. When we were first married we would go to horse shows and he would watch the practice and warm up arenas figuring out what worked and what didn't work for horse training. I don't know that he would have done that at five years old but when she is ready it is a great way to learn.
I think I should be considered an expert on rumors; how they start, spread and grow. I was just recently made aware of the newest form of the rumor…somehow Roxy (a mare) has become a wild stallion! I guess I should be happy though, as this new rumor gives me 6 months to have trained her vs the old rumor where I only had three weeks. In reality I had Roxy from the time she was 2 years old until you see the 'Live Like You Were Dyin' video when she was five years old. I had around one-thousand hours of training with just her during that time.
No one can exactly pin point how the rumor started. The best explanation I have heard reported to me is that, if you watch the video, I am moving my hands around a lot while I am standing in the in-gate while the announcer was reading the intro. Someone watching assumed I was using sign language…and the rumor was born.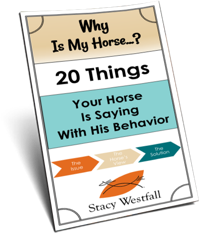 FREE PDF DOWNLOAD
WHY IS MY HORSE...?
No one taught you the skills you need to work through these things.
Riders often encounter self-doubt, fear, anxiety, frustration, and other challenging emotions at the barn. The emotions coursing through your body can add clarity, or can make your cues indistinguishable for your horse.
Learning these skills and begin communicating clearly with your horse.
Click here to learn more.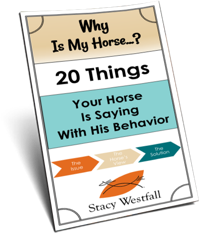 Free PDF Download "Why is my horse...20 things your horse is saying with his behavior"
PDF will be delivered to the email address you enter as will weekly tips from Stacy. Totally free. Unsubscribe anytime.