Following my blog 'Can horses be 'potty trained' I would have to say that several things are apparent. First is the clear fact that some horses are naturally clean
which is different than being 'trained'. My guess would be that these naturally clean horse would be easier to train…but I haven't done it so I am just guessing.
On the training side of things it seems that the answer is clear; YES, many horses can be potty trained! Possibly my favorite comment from came from Candi M. who said: OK!!! Enough!!! Any of these potty trained ones FOR SALE?????? Lol
Who potty trains a horse?
I guess it makes sense that celebrity horses might need to be trained. Deborah W reports that Roy Rogers had Trigger house broke according to his old blogs and interviews. Many of you also reported that the therapy minis are also 'housebroke.'
I personally knew someone years ago that had a background in Standardbred racehorses. She told me that they trained all of the horses to urinate when someone whistled. Racehorses are frequently drug tested and everyone in the barn was told to whistle when they saw a horse urinating…and she reported that it generally worked. I found the story slightly interesting at the time but it didn't really impact me. If I had known it could be connected to a cleaner stall….I would have paid more attention! Several comments confirm this idea:
Professional Equine Grooms My horses urinate with a whistle, this makes for more comfortable rides for them, and easy drug testing at shows!
Tohni R. They whistle at the racetrack whenever a horse pees, then at the winners barn they whistle and the horse pees for their test.
Kelly B My mom trained her horse to pee when she whistled "Old McDonald". She would just whistle every time she saw him peeing and pretty soon he started to stretch out and pee if she would whistle that tune. It worked really well for competitive trail rides.
Gayla L I have taught all my horses to pee on command. It was very easy to do, every time they would start peeing I would start whistling, then rewarded them with a treat. I did this over a weeks time I'd catch them peeing, I'd whistle. Soon all I'd have to do is whistle and they would pee. Even my friends horses were catching on to the whistling. They would all stop and start peeing when I whistled!
Other people just had a great idea:
Susan S I've been potty training mine for years now, ppl not only made fun of me, they thought it couldn't be done! I'm loving this more than anyone will ever know I worried that they may hold it for too long being so loyal to this although after about 8 hours , they will go if I'm not there to take them outside the barn to relieve themselves! My biggest amazement was my yearling, he was actually the easiest and picked up on each command as I noted in an earlier post ! In actuality , they are easier to train than a dog as with canine , it takes weeks, with equine, it's literally overnight at the first stage of getting on top of their cycle! I have dry stalls and loving it!
How to potty train a horse:
Upon reading all of the comments on the blog and Facebook there seems to be a theme on how to potty train a horse. These seem to fall into three categories; comfort, reward, habit.
Many horses dislike urine splashing on their legs. Many of us would likely report what Wendy S did: "I have a mare that comes in from the pasture to use the bathroom in her stall like it's her own private bathroom. Her daughter does the same thing!! Drives me crazy!"
My guess is that these horses are avoiding the 'splash' they get on the hard packed ground. During our stay in one location Newt didn't like the 'splash' from the hard packed turn out and would predictably go when he entered the deep sand of the riding arena (yes…I'm getting ideas here…)
Several people reported taking advantage of this natural tendency and used it in their training.
Donna C I put mat in her spot and she would move down so not to get it on her legs. She was at the end on paddock in 6 weeks
Melinda G. I have a welsh pony that is potty trained. I use her for school presentations and recently she was in a play (walked on stage during the show). She doesn't like her "potty" splashing on her legs. A deeply bedded stall and horse trailer do the trick. It didn't take long to teach her and its been quite handy.
Erin H. The miniature horses I work with are trained to go in shavings or wood chips, all you have to do is tell them to go potty and stand and wait for a little while. Then they get a bite of grass once they go!
Anita S. I put shavings in one spot where I would prefer horses pee…..and they do only on shavings…no splash. I find when training clean all of stall but one where you prefer poop. Always leave a few apples in that spot. Pretty soon that is only place in stall my horse poops. Clean regularly….so no scatter and bingo. Potty trained horse.
Which leads to the next topic: habit
Tobi B- Stallions are easy to potty train. We will put a pile of mares poop in the stall where ever we want him to poop once he smells this he will continue to poop on that exact spot and will continue to after getting gelded its awesome and makes life so much easier
Lori S- Ya! I just kept putting a small portion of the wet and soiled shavings in a pile outside his stall where I wanted him to go. I sprinkled "Sweet PDZ" on the old area to eliminate the smell. He started to go outside on the pile I had made. Now I can totally strip it out and he returns right to the "correct spot" time after time. Not to say we have an accidental poop about once in awhile, but that is usually when he is excited thinking its dinner time and I don't feed him within 30 min or so.
Brenda When my boy was young I took some of my mare's manure to a corner of his stall. He sniffed it as is predictable. But by consistently doing this, he began to target and pile his in that corner. It worked so easily that I did the same in the mare's stall with my boy's manure. It worked for her too!
Jeanna N You can train a stall kept horse to use 1 corner in their stall. It makes for an easy clean up!
If you have other horses swap poo or pee, & place it in 1 corner of the other horse's stall. If you have turnout pens you can also use this technique in those.
Why break your back siftin' through every inch of shavin's when it could be as easy as maybe a 5min. job per stall or pen?
And finally REWARD seems to be a big key…and who wouldn't reward a horse that knew how to keep a stall clean!
Linda S. It can be done! My gelding will pee and poop in a bucket. He shows me he has to go and waits for the bucket. My mare has learned to do her business in one corner most of the time now. She used to turn her stall into a mess, not anymore! You just have to spend time with them and offer cookie motivation for good performance!
Wendee W My guys go outside. I trained them by sending them out if they started going inside. Lots of praise and a peppermint when they go out. They are whistle trained to go pee before riding and getting in the trailer. It took a few peppermints, a soft spot, praise and patience.
Linda S Fortunately my horse that I bought last October does not poop in his stall. But I also did not want him to pee in it either. He has a 100 foot run out the back of his stall. So the first week I bought him and when I would take him back to his stall, I would walk him to the opening to his run, and I would say to him, "Go potty" and I would send him out to an area that has deeper sandy dirt. At first he would run out there and immediately turn around and come right back to me. But I would send him right back out and again say, "Go potty". He would stand there and stare at me and I kept repeating my command. Pretty soon he would start to stretch out and soon he would drop and go pee. I would say, "Good boy"!! Then as soon as he came back to me I have him a piece of carrot. Now he does his pee out there in that spot all the time and not one single time has he peed in his stall. I have on occasion told him to "Go potty" when he was out in the arena but that may have just been a coincidence.
The down sides to potty trained horses (unbelievable that there are any but…)
Tracy B Considering I just had to take my mare "potty" yep they can be trained. I just take her out and say "go potty" and she does! She came that way however. Her previous owners were in their 70s and didn't like cleaning stalls. She will poop but NEVER pee. I'm not excited though because if she is up all day I have to go out and walk her or she gets uncomfortable
Abby D.My gelding was a stinker when it came to messing his stall, so I took a stab at training him to poop in the back right corner of his stall by piling all the manure I had to pick out of his stall right where I wanted it. It took a while, but now he poops AND pees in that corner! It's so easy! However, when we went to State Fair this year, since the stall was unfamiliar he made huge messes. Once we got back home, though, he went right back to his poop corner I don't know if it has something to do with his smell or what, but I wish it'd work in unfamiliar stalls too!
The only thing I think this really lacks is a video! So, to all of you out there who have potty trained horses; POST VIDEOS PLEASE!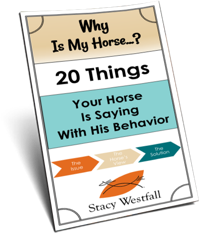 FREE PDF DOWNLOAD
WHY IS MY HORSE...?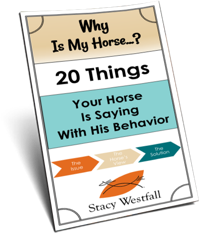 Free PDF Download "Why is my horse...20 things your horse is saying with his behavior"
PDF will be delivered to the email address you enter as will weekly tips from Stacy. Totally free. Unsubscribe anytime.