My kids just returned from summer camp. Last year was their first year going away and they went to Miracle Mountain Ranch where Jesse and I have gone before for couple retreats, etc. Last year they went for one week and when we arrived to pick them up they didn't want to leave!
This year we let them go for two weeks…and now they say they want to go for six to eight WEEKS next year! I am not sure if this is a good sign (well it is for the camp) or a bad sign (for me!). And yes, they do have horses! Lots of them. Even the basic camp has trail riding as an option and then they even have specialty horse camps offering many riding choices. I wish I could have gone when I was a kid.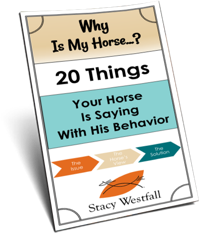 FREE PDF DOWNLOAD
WHY IS MY HORSE...?
No one taught you the skills you need to work through these things.
Riders often encounter self-doubt, fear, anxiety, frustration, and other challenging emotions at the barn. The emotions coursing through your body can add clarity, or can make your cues indistinguishable for your horse.
Learning these skills and begin communicating clearly with your horse.
Click here to learn more.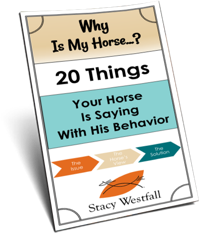 Free PDF Download "Why is my horse...20 things your horse is saying with his behavior"
PDF will be delivered to the email address you enter as will weekly tips from Stacy. Totally free. Unsubscribe anytime.