If you have followed my blog you may remember the story about Hammy (the hamster) and his near death experience. I am happy to report that Hammy is mostly well and has almost doubled in size -just compare the photo in the original blog to this one!
I think it is normal for them to gain weight…although he sits like this all the time which is both funny and strange. One question though for any hamster experts that may be reading this; Do you notice the small red spot below his left eye? It has been there for months and is not going away. Any idea what it might be?
Just for fun we weighed Hammy and my other sons hamster (little Ham) and this chubby one weighs 2.5 oz and the other is 1 oz!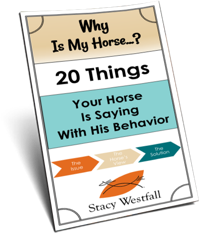 FREE PDF DOWNLOAD
WHY IS MY HORSE...?
No one taught you the skills you need to work through these things.
Riders often encounter self-doubt, fear, anxiety, frustration, and other challenging emotions at the barn. The emotions coursing through your body can add clarity, or can make your cues indistinguishable for your horse.
Learning these skills and begin communicating clearly with your horse.
Click here to learn more.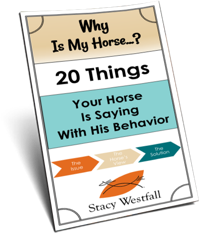 Free PDF Download "Why is my horse...20 things your horse is saying with his behavior"
PDF will be delivered to the email address you enter as will weekly tips from Stacy. Totally free. Unsubscribe anytime.