The focus of this video series is on trailer loading BUT it is soooo much more than that. For example it talks about many theories such as your horse's bank account and reading a horses body language. It is also the last video training series Vaquero appears in.
This video series was created with Tekonsha with the hope of educating people about safe trailer hauling and training your horse to load in the trailer. Below this video is a summary of the things you SHOULD have learned or though about…if you can't remember them being mentioned… re-watch the video!
Did you catch the 'bank account' idea? Can you see how building the communication can put 'money' in that account? Have you ever known someone who bought a horse (paying for the training the horse had) and then you saw them take constant withdrawals until the horses value had dropped?
Can you move your horses body around similar to the way I did with Vaquero? If Vaquero was average…where is your horse? When you are moving your horse around you (front end, hind end, lunging around you, etc) are you focused on reading his body language also? Is he saying he is scared, bored, lazy, mad, confused or understanding everything?
Remember if you go to the Tekonsha website and click on 'collector cards' Tekonsha will mail you one of these four cards for FREE!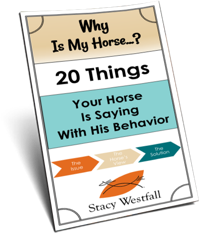 FREE PDF DOWNLOAD
WHY IS MY HORSE...?
No one taught you the skills you need to work through these things.
Riders often encounter self-doubt, fear, anxiety, frustration, and other challenging emotions at the barn. The emotions coursing through your body can add clarity, or can make your cues indistinguishable for your horse.
Learning these skills and begin communicating clearly with your horse.
Click here to learn more.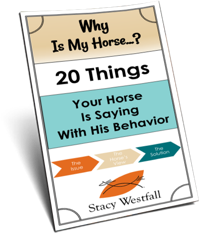 Free PDF Download "Why is my horse...20 things your horse is saying with his behavior"
PDF will be delivered to the email address you enter as will weekly tips from Stacy. Totally free. Unsubscribe anytime.