I am 50 yr old woman getting a 5 yr old horse, after 20 years without one. He is
super gental willing and well started. Which of your dvds would you reccommend?
I need direction he is still on snaffel and learning neck reining.
Congratulations on your new horse!
That is a big question. If I had to pick one with what you were describing it would probably be 'Basic Body Control' although 'Basic Groundwork' would be good also.
My favorite recommendation, aside from go ride with the person who trained the horse, is to review much of the training to get you both on the same page. In otherwords don't be afraid to go back to the basics.
Ride with Faith,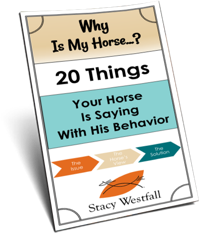 FREE PDF DOWNLOAD
WHY IS MY HORSE...?
Free PDF Download "Where is my horse...?"
20 things your horse is saying with his behavior.