Do you ever wonder about science and how it relates to the Bible? Do you see God in nature?
This video is amazing.  It shows the stars during the conception of Christ, the birth and the crucifixion. Worth a watch. I list some of my favorite parts below. The whole thing is the best but if you only have a few mins now then start at 44 mins and see if you like it.
My whole family found this documentary fascinating. I hope you make time to watch it and that you enjoy it as much as we did.
For more information visit http://www.bethlehemstar.net/
Some of my favorite parts:
around 8 mins he explains how the solar system is like a clock and how NASA uses this knowledge
around 33 mins he explains the 'king' star and his own skepticism
around 44 mins we see the 'brightest star anyone had ever seen'
around 45:30- how can a star STOP in the sky?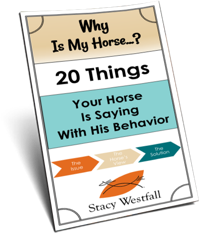 FREE PDF DOWNLOAD
WHY IS MY HORSE...?
No one taught you the skills you need to work through these things.
Riders often encounter self-doubt, fear, anxiety, frustration, and other challenging emotions at the barn. The emotions coursing through your body can add clarity, or can make your cues indistinguishable for your horse.
Learning these skills and begin communicating clearly with your horse.
Click here to learn more.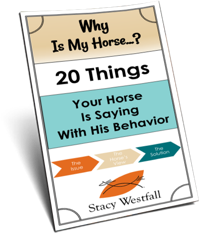 Free PDF Download "Why is my horse...20 things your horse is saying with his behavior"
PDF will be delivered to the email address you enter as will weekly tips from Stacy. Totally free. Unsubscribe anytime.