Life Law #5: Life rewards action.
Strategy: Make careful decisions and then pull the trigger.
I like how this one is written. At first I thought it was talking mainly to those of us who tend to suffer from 'paralysis by analysis' (pull the trigger) but on further examination it also encourages careful decision making.
Have you ever noticed that people who 'do' more tend to achieve more? I think it is just because the odds are in their favor. Life rewards action. And planned action….now that is powerful.
What do you want to accomplish this year with your horses? Dream, make a plan, get advice from others and then MOVE! Did you know that in 2003 when I won the NRHA Freestyle Reining bridleless I hadn't even considered the possibility of riding bareback and bridleless in a show? And when I did finally have the idea I didn't just jump on and go. I started by cooling my horses down at the end of each ride by riding bareback for a few minutes.
Gradually I grew more and more brave. The spins went from barely a spin to almost something that could be shown in a show. And the slides…you would have laughed to see me so happy for leaving twelve inch slide marks! A dream…and action in the form of small steps. And it only took me from 2003 until 2006 to finally achieve it…not exactly overnight.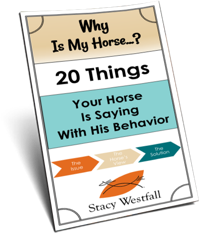 FREE PDF DOWNLOAD
WHY IS MY HORSE...?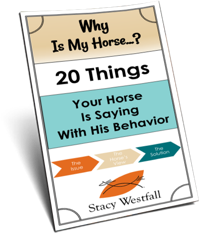 Free PDF Download "Why is my horse...20 things your horse is saying with his behavior"
PDF will be delivered to the email address you enter as will weekly tips from Stacy. Totally free. Unsubscribe anytime.