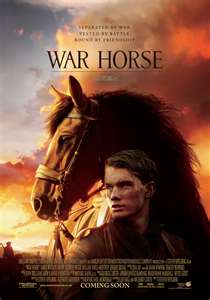 What could draw me out to my first Christmas day movie? Well, a story about a horse….of course! It is encouraging to me that Hollywood still sees the draw of the equine as a box office hit material.
The story line prompted me to share with my boys the story of my very own 'war horse', Scrapper. Scrapper is the one and only foal that my mare, Bay, ever had. I bred her once and Scrapper was born. I did all of his training including taking him to college with me my sophomore, junior and senior year. He was the first foal I raised and the first horse I trained from start to finish…and then I was married. We were broke and in debt except for one asset…a horse worth $5,000.00 I cried and promised him that someday I WOULD buy him back. I promised.
His first job involved becoming a roping horse where they nick named him 'Pinky' because the tie down they used on him rubbed him raw and the medicine they put on it was pink. He was sold again and was used as a mounted police horse because of his size, temperament and high training level. He then sold again and became a AQHA show horse winning Ohio Quarter Horse Association year end awards and earning 67 AQHA points in mainly showmanship and horsemanship (thank you Findlay). He was also ridden in the AQHA Horseback Riding Program.
I owned him for six years, sold him for six years, and then bought him back. He had five different owners during that six year period and countless experiences both good and bad. I followed him through each move including a trip to Tattersalls horse auction in Kentucky in an attempt (failed) to buy him back. Eventually he began to have soundness issues and the last owners were happy to sell a not quite so sound horse for $5,000.00.
While the story line may not be quite as dramatic as 'War Horse' I think the story meant more to my kids. To be able to hear about their parents being broke, making and keeping a promise, and for them to be able to feed Scrapper an apple and take him for a ride makes it all the more real. My very own war horse-home for good.
(This is a video of the first horse I ever raised, Scrapper, being ridden for the first time by my son Joshua. I know that Scrapper is sore in the video and you will be happy to know that his heart bar shoes with wedge pads have helped tremendously.)
War Horse was good. Not quite as amazing as I had hoped, although this is one of those times where I do wonder if my experience does hurt my 'movie watching enjoyment'. I actually think that noticing the multiple horses used, as well as the scene where from all but one camera angle the horse has a halter on (it is missing in one angle, but reappear) made it harder for me to lose myself in the story. Having said that there were many wet eyes in the theater. Will you please share your thoughts?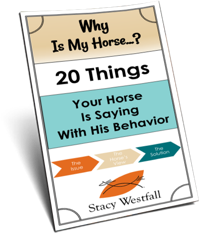 FREE PDF DOWNLOAD
WHY IS MY HORSE...?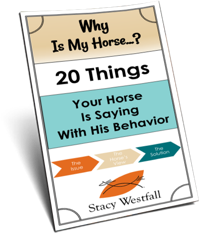 Free PDF Download "Why is my horse...20 things your horse is saying with his behavior"
PDF will be delivered to the email address you enter as will weekly tips from Stacy. Totally free. Unsubscribe anytime.