My kids have been learning to ride. This is not the first year that they have ridden but it is the first year they became riders…at least by some standards. Have you ever heard that your not a real rider until you have fallen off? That is what they said when I was growing up anyway.
I wondered why but I think I now know. I think it gives you a reason to go on. Falling off can make you feel defeated or at least challenged. I asked Joshua (my middle son, 11 years old) what he thought when he fell. He said, "I was scared when I was in mid-air and it hurt when I landed because I was galloping (bareback)."
I asked him what made him get back on and he said he likes riding horses. I asked him if he had heard "your not a real rider until you have fallen off" before he fell and he said he had heard it but "I thought it was nonsense." After falling he found comfort in the saying.
So, have you fallen off? Here is another thing I have added. Are you a Cowboy (fallen off when riding in a saddle) or an Indian (fallen off while riding bareback) or both (that's me! anyone up to naming this?)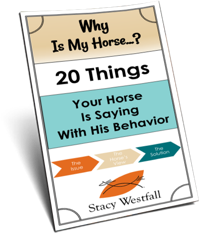 FREE PDF DOWNLOAD
WHY IS MY HORSE...?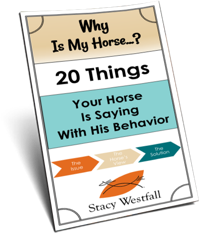 Free PDF Download "Why is my horse...20 things your horse is saying with his behavior"
PDF will be delivered to the email address you enter as will weekly tips from Stacy. Totally free. Unsubscribe anytime.