This is a photo of my son Nathan, age 9, making apple crisp. He is learning how to cook and he is learning responsibility. Responsibility is something that is learned when it is age appropriate and a little at a time. Nathan has almost another decade to spend with us but we are already preparing him for when he will leave home.
Does your horse have any responsibilities? Do you believe your horse can be responsible? Please, look away and think about it before you read on.
When I ride a young horse I know I am responsible for most of what happens. I control the environment, I decide how long the lesson is, I read the body language and I stay very aware. Contrast that to going on a trail ride in my youth. Back then I strapped on a bareback pad, bridled up and headed out.
Most of the time when we ride older horses we accept that they have some responsibilities. Stop when I say stop, think twice before you over react, etc. To the extent we trust our horses we are giving them responsibility. But it also must be earned.
Apple Crisp -preheat oven 375
5-6 tart apples (I like McIntosh)
1/3 cup melted butter
2/3 cup brown sugar
3/4 tsp Nutmeg
3/4 tsp Cinnamon
1/2 cup flour
1/2 cup quick oats
Peal, slice and core apples (Mom sells Pampered Chef so we use the apple peeler, corer, slicer) or cut them to even sized pieces (so they bake the same). Layer in bottom of 9×9 pan (I use Pampered Chef stoneware).
Mix melted butter and brown sugar, then add nutmeg, cinnamon and stir. Stir in flour. Stir in oats. Crumble over apples. Bake 30 mins or until apples are tender when poked with a fork.
PS-don't breath on your horses after eating….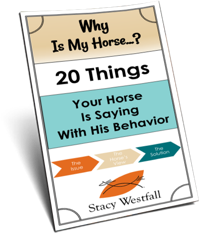 FREE PDF DOWNLOAD
WHY IS MY HORSE...?
No one taught you the skills you need to work through these things.
Riders often encounter self-doubt, fear, anxiety, frustration, and other challenging emotions at the barn. The emotions coursing through your body can add clarity, or can make your cues indistinguishable for your horse.
Learning these skills and begin communicating clearly with your horse.
Click here to learn more.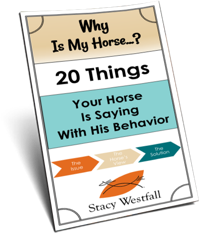 Free PDF Download "Why is my horse...20 things your horse is saying with his behavior"
PDF will be delivered to the email address you enter as will weekly tips from Stacy. Totally free. Unsubscribe anytime.