This video shows one of my favorite training exercises. It helps the rider be more accurate with their aids, which in turn allows the horse to see the 'pattern' of the aids. When the horse can see the subtle changes in the rider they are more likely to respond willingly.
Riding a pattern like this, especially if you use cones as shown, will encourage the rider to look up and plan ahead.
The consistency of the pattern leads to consistency with the cues, which is what allows the horse to see the subtle rider changes.
Increasing accuracy is also a byproduct of increasing the riders strength and flexibility as well as the horses strength and flexibility. Fitness has been the theme of the week on my podcast and in my blogs!
PS-This is one video out of an entire series I made back in 2019. Gabby and Willow have both gone on to win World Titles in Western Dressage!
If you want to hear more about this subject I have a podcast on this subject.
What is a podcast?
A podcast is like listening to your favorite radio program…but on demand.
Like Netflix for your ears…only podcasts are FREE!
Podcasts are convenient because you don't have to look at a screen.
I like to listen while I drive, clean stalls, and exercise.
Listen to this review from iTunes: "I like podcasts but this one is my absolute favorite. Stacy is generous with her knowledge and practice. You can learn so much! Thank you Stacy for teaching us how to train, ride, enjoy and LOVE our horses the way they deserve!"
If you have an iPhone you already have a podcast app on your phone. It is a purple icon. Open the app and search for Train Your Own Horse with Stacy Westfall. Subscribe and you can hear them all!
On an android phone you'll need to download an app like google podcast or stitcher.
I have easy links to listen right here on my website!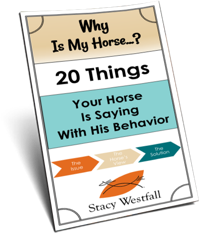 FREE PDF DOWNLOAD
WHY IS MY HORSE...?
No one taught you the skills you need to work through these things.
Riders often encounter self-doubt, fear, anxiety, frustration, and other challenging emotions at the barn. The emotions coursing through your body can add clarity, or can make your cues indistinguishable for your horse.
Learning these skills and begin communicating clearly with your horse.
Click here to learn more.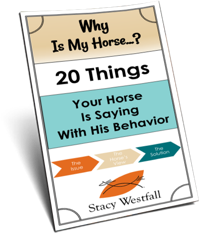 Free PDF Download "Why is my horse...20 things your horse is saying with his behavior"
PDF will be delivered to the email address you enter as will weekly tips from Stacy. Totally free. Unsubscribe anytime.