Check out page 16 of the January 2017 Western Horseman! That's right! Justice and Presto are right there in full color!
When I was first contacted about being interviewed for an article on nurse mare foals I was excited…and concerned. The topic of nurse mare foals is emotionally charged and the facts and opinions seem to run wild on the internet. I am impressed that Western Horseman chose to tackle the topic and if I can help to add clarity to what is going on AND I can personally learn more along the way then I'm all in.
Here are three interesting ideas that I took away from the article:
there is a Pulitzer Prize winning photojournalist who will be releasing a feature length film on the subject in 2017. She was able to get direct access to both the rescue AND the nurse mare farm.                                                                 MY THOUGHTS: You can bet I'll be watching for that release date! Maybe we should do a big meet up and watch the premier together!

the reasons why nurse mares are used is still debated and the leading cause appears to be death or injury to the mare; something that will always be around.                                                                                                                                                                     MY THOUGHTS: The first time I met someone who had used a nurse mare it was because their mare had died foaling. I'd love to know the numbers…I hope the documentary tells more…

there is a farm in Oklahoma, JNP Horses, that both supplies nurse mares AND makes sure that all of the foals are registered, have been socialized, and they have created a community of people who want the foals.

MY THOUGHTS: Way to go JNP!!! Show us the way!
I don't think that the emotions will change surrounding the issue but I do hope that more of the facts will be sorted out. The magazine has more, including my comments, so be sure to pick one up while they are still on the shelves.
YOU CAN HELP! HOW? TAKE ACTION!
In less than one minute you can click over to Western Horseman (Western Horseman FB or email) and say thank you for writing the article.
In one more minute you can click over to JNP Horses (JNP Facebook or website) and tell them thank you.
Two minutes, two clicks…and seriously, you will make a difference!
Thank you to everyone who has emailed, left comments or asked me face to face, "How are the foals? I'd love to see an update." Now that we have moved into our new house (still under construction) I have finally found time to go back and dig through my photos and videos. Turns out I have several photo/video sessions with the foals that I never turned into blogs!  I'll aim to post a new blog with them next week!
Do you wonder how riding without a bridle is possible? Wonder no more! Stacy shows you in this DVD all of the cues in a way that both horse and rider can understand. Many people have trained their horses to ride without a bridle from this video. The cues system can improve your riding communication even while keeping the bridle on.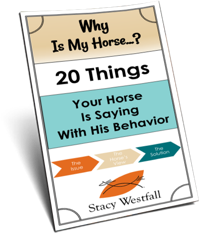 FREE PDF DOWNLOAD
WHY IS MY HORSE...?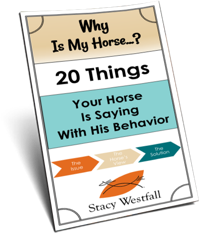 Free PDF Download "Why is my horse...20 things your horse is saying with his behavior"
PDF will be delivered to the email address you enter as will weekly tips from Stacy. Totally free. Unsubscribe anytime.