I documented the first few weeks of having the nurse mare foals in detail but then life got busy. I did keep collecting photos and video but I didn't make the time to post about it. (see bottom for links to past blogs)
This is my catchup video! It shows footage from July-January and include the foals being turned out in the pasture with adult horses the first few times, trailering and a BIG announcement!
The first adult horse they were turned out with was the recommend 'old -lightly-lame' baby sitter. The meeting went well and wasn't super exciting, which was PERFECT! I love watching the body language between the two foals as they try to figure out 'the big guy.' 
The next horses they met were MUCH more exciting! Presto started the meeting by attempting to nurse on Lucy, my husband mare, who was not impressed! The two mares chosen are some we raised and know well. As you can see in the video there was a lot of running but it was all in fun…and some confusion on the foals part. As you can see they eventually all settled down. Turning the foals out with lots of other horses was part of my prep work for weaning them from each other. 
In October I started hauling the foals as the next step in their training. I hauled them around with no purpose except to 'season' them, which means there was no pressure. Load at one place, go spend the night somewhere, and then come back home. I did this for several weeks during which time another big development happened; Justice was sold!
As you can see in the video Justice found his new home at Asbury University where he will be part of their police horse training program! He made the transition seamlessly and has lots of students loving on him and other young horses to grow up with. I'm glad to have helped him get a strong start in life and to find his future career.
Back in my barn Presto is keeping himself occupied with his favorite toy (the big red activity ball) and the other horses from the barn. He is getting so big! I'm guessing that before he turns a year old in May he will be taller than at least three of our full grown reining horses. 
I'm excited to see how both foals turn out. I have easy access for updates and visits with Justice. I also have unlimited access to Presto as he is still in my barn. It has been a fun adventure and although I still have years ahead of me with Presto…I admit that I could see adopting again in the future!
Nurse mare foal quick links to past blogs:
Check out Stacy's full line of DVD's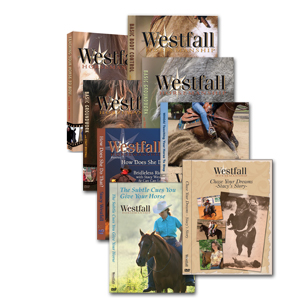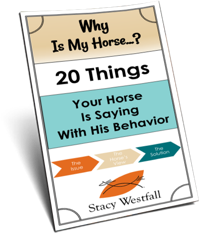 FREE PDF DOWNLOAD
WHY IS MY HORSE...?
No one taught you the skills you need to work through these things.
Riders often encounter self-doubt, fear, anxiety, frustration, and other challenging emotions at the barn. The emotions coursing through your body can add clarity, or can make your cues indistinguishable for your horse.
Learning these skills and begin communicating clearly with your horse.
Click here to learn more.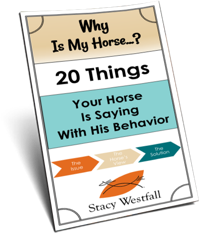 Free PDF Download "Why is my horse...20 things your horse is saying with his behavior"
PDF will be delivered to the email address you enter as will weekly tips from Stacy. Totally free. Unsubscribe anytime.