I'm in Norco, California which is also known as 'Horse Town USA' where they say you can ride your horse pretty much everywhere. The city has built sidewalks for horses that run beside the roads throughout town.
But could I ride my 'pony' down to the FedEx office and mail my package?
Yep. Here's the video!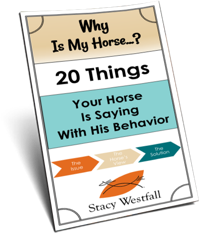 FREE PDF DOWNLOAD
WHY IS MY HORSE...?
Free PDF Download "Where is my horse...?"
20 things your horse is saying with his behavior.