Upon arriving in Norco, California I announced, "I want to do all the tourist things I can with a horse!"
Riding through the McDonalds drive through was just one of the things I had to do. We have already ridden to several tack stores, took a package to FedEx, and ridden by some unusual things…including a potbelly pig! I hear there is an ostrich just south of me….I wonder what Newt will think about that?
My only problem now is…so many drive throughs in Norco…and so little time! I'm going to have to eat and drink every hour just to fit all of my tourist adventures in. I wonder if I can get a latte? Pony Expresso?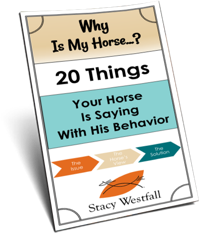 FREE PDF DOWNLOAD
WHY IS MY HORSE...?
No one taught you the skills you need to work through these things.
Riders often encounter self-doubt, fear, anxiety, frustration, and other challenging emotions at the barn. The emotions coursing through your body can add clarity, or can make your cues indistinguishable for your horse.
Learning these skills and begin communicating clearly with your horse.
Click here to learn more.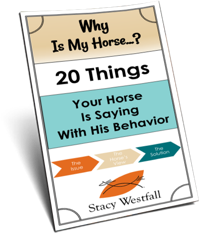 Free PDF Download "Why is my horse...20 things your horse is saying with his behavior"
PDF will be delivered to the email address you enter as will weekly tips from Stacy. Totally free. Unsubscribe anytime.