What keeps you grounded? I have mentioned staying balanced in a recent post and I think being grounded helps. For me, in this stage of my life, one thing that keeps me grounded is my family, my kids.
So the night before I am to show at the Congress I am done and driving home…and Jesse calls. He tells me that our son Caleb, has a very, very rapid heart beat.
Let me say that any stress I was feeling about the horse show evaporated. What is a horse show compared to your child's health?
Long story short staying grounded is a great way to keep your life in balance. And if any of you have personal experience with SVT (the heart thing) please post or send me an email. They are recommending surgery and I would love to know more from people who have dealt with this.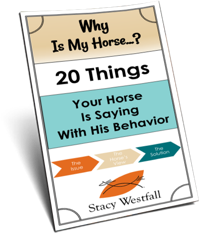 FREE PDF DOWNLOAD
WHY IS MY HORSE...?
No one taught you the skills you need to work through these things.
Riders often encounter self-doubt, fear, anxiety, frustration, and other challenging emotions at the barn. The emotions coursing through your body can add clarity, or can make your cues indistinguishable for your horse.
Learning these skills and begin communicating clearly with your horse.
Click here to learn more.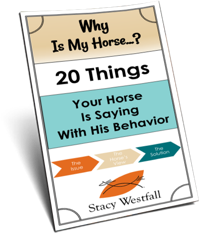 Free PDF Download "Why is my horse...20 things your horse is saying with his behavior"
PDF will be delivered to the email address you enter as will weekly tips from Stacy. Totally free. Unsubscribe anytime.