Congratulations Ann and Echo! Ann set the goal a few years ago to win at the Congress and she has been working hard to get to this point. This video was taken at the All American Quarter Horse Congress 2011 Non Pro Freestyle. In case you are wondering, the freestyle class at the Congress is divided into two groups, Pro (people who's profession is horse training) and Non-Pro (I bet you can guess-they don't make their living training horses).
Ann was actually my roommate in college! After college she trained horses but was injured a few years out of school when a stumbled and fell. She had multiple back surgeries and was told that she shouldn't ride anymore. I remember the first few years after the accident when she would drive back from North Carolina to visit during the Congress. What I remember is that although she was in her 20's, when she tried to stand up after sitting, she struggled like you might see an 80 or 90 year old person who was very stiff.
To say that the road has been long and that Ann has worked hard would not do her justice. I loved her music this year. Echo truly does have a 'Heart of Gold' and her feeling that 'tonight's gonna be a good, good night' really did come true. Congratulations again Ann and Echo!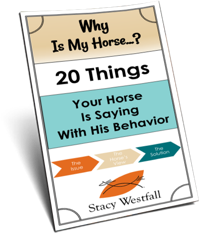 FREE PDF DOWNLOAD
WHY IS MY HORSE...?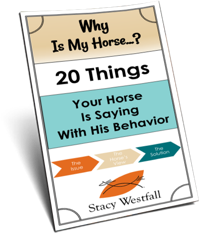 Free PDF Download "Why is my horse...20 things your horse is saying with his behavior"
PDF will be delivered to the email address you enter as will weekly tips from Stacy. Totally free. Unsubscribe anytime.