"What do you look for in the foals to pick a sound minded one? Didn't you pick 2 foals at the same time?"
Yes, I did adopt two foals; Presto and Justice.
Last Chance named them Press on Regardless and No Regrets.
In my last two posts I've out lined the reasons that I chose Presto. Some were emotional and others were logical but one that I didn't mention much was his temperament because as you will see, it was hard to determine.
It is worth mentioning at this point that we also have bred and raised our own foals. My husband loves studying performance Quarter Horse bloodlines and has been very successful breeding horses that were very successful in the reining showpen.
When breeding our own we took many things into consideration and temperament was high on the list. Some of the things we considered were trainability, (temperament/disposition), athletic ability, conformation, and bloodlines.
With Presto, I knew nothing more than what stood in front of me.
There is no record of his bloodlines.
Even the breeds that mix inside of him are anyones guess. (anyone know of a good DNA test?)
Evaluating athletic ability in a foal that young is challenging…especially when you consider that Presto got very, very sick.
And evaluating temperament of a very, very sick foal is also challenging.
Rotavirus
One issue that Last Chance Corral is forced to deal with is rotavirus. This link explains it in detail but the short version is potentially deadly diarrhea.
Presto arrived at Last Chance Corral at 2-3 days old. Within the first 30 days of his life he battled rotavirus…twice.
Last Chance runs an incredibly clean operation and has a quarantine barn as well as excellent protocols in place. However, depressed foals who want to put everything in their mouths…who come from less than ideal situations often bring with them this virus.
I say all of this to explain that I was taking a shot in the dark with Presto's temperament. Plus it was a chance I was willing to take.
I did rely heavily on the gut instinct of Victoria (owner of Last Chance) and Rachel Bendler (worked there) to gather information about Justice aka 'No Regrets'.
It was always my intention to adopt one foal, Presto.
Last Chance also makes it clear that they will do what they believe is in the best interest of the foal. In Presto's case Last Chance required me to adopt two. Presto had been very sick and was still weak. In their experience they had learned that the stress of going to a new home in that situation would likely cause Presto to become depressed and sick again.
Picking another foal was a challenge.
We stood surrounded by foals and the question was, 'Where do we begin?'
As professional horse trainers my husband and I both have experience to rely on. We also knew our own strengths and weaknesses.
My first request was that the second foal be healthy and strong. That quickly eliminated all but a handful of foals. 
Looking at the group, we inquired about their temperaments and anything the Last Chance team might know. Several were gaited foals and that was also a limiting factor for us. 
I have nothing against gaited horses. They are actually a group I want to learn more about. But the timing wasn't right to take on that project. The group was cut in half again.
Two of the foals that were left were some kind of draft crosses; a paint/draft mare and a black colt.
My husband, Jesse, works at Asbury University in Wilmore, Kentucky. One of the programs he oversees is their police horse training program. He looked at both draft crosses and mentioned that one might work as a future police horse.
I felt relief flood through me.
I asked him to pick the second foal and he decided on 'No Regrets' because of both temperament and build.
It all worked out.
Presto and Justice came home with us that day.
Justice remained healthy and Presto became strong.
Later in the fall, Justice joined the herd at Asbury University and became one of their police colts in training.
Eleven days ago, Justice left Asbury and headed to California to join Placer County Sheriff's Department mounted division.
——————————-
I've owned Presto now for four years. He has grown so much and I'm finally ready to start sharing his adventures
What questions do you have for me?
I'll be posting daily from now till Monday and if you leave a question on one of my posts or blogs, I'll be giving away a t-shirt to one winner!
#PressonRegardless #Presto #Equithrive
Justice: Update on Facebook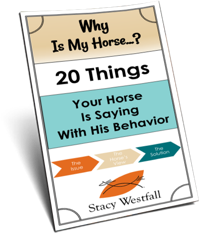 FREE PDF DOWNLOAD
WHY IS MY HORSE...?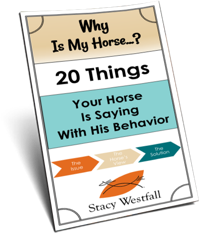 Free PDF Download "Why is my horse...20 things your horse is saying with his behavior"
PDF will be delivered to the email address you enter as will weekly tips from Stacy. Totally free. Unsubscribe anytime.