I wrote a blog awhile back titled "HOPE is the little voice you hear whisper 'maybe' when it seems the entire world is shouting 'no!'  and Donna left me a wonderful comment and photo:
"It has been a few years now, but you inspired hope in me. I was getting close to being 50 and I had a stallion that was 18 that had not been ridden since he was 2. I was getting ready to geld him to see if I could ride him and also so he would have a better life besides standing in a stall alone. You gave me the hope and courage to do that when I met you at a MI event. You signed a picture for me and I slept with it by my bed. Now I ride him everywhere and he has been the best trail horse I have every had. I even rode him at my wedding. I just want to thank you." Donna
This was feedback on my Facebook page after the 'hope' blog. Thank you to everyone who leaves feedback, I enjoy interacting with you. Also, a big thanks to all of you who read this stuff:) ….even if you don't comment here. You are still participating and for that I thank you.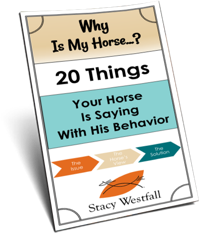 FREE PDF DOWNLOAD
WHY IS MY HORSE...?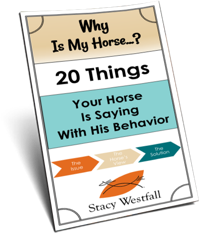 Free PDF Download "Why is my horse...20 things your horse is saying with his behavior"
PDF will be delivered to the email address you enter as will weekly tips from Stacy. Totally free. Unsubscribe anytime.