Dear Mom,
Breakfast at 5:30 am was good. Bed time at 1:00 am was not.
You have more friends than I thought you did. How did you get so many of them to come and watch us ride to your favorite song?
Some of them were a little weird though, especially the one that liked to play with my feet.
The feet thing wasn't quite as weird as when he started waving that thing around in front of all of us. Who wouldn't look at someone acting like that???
I am glad I will be sleeping in my own stall tonight. I am still not sure what to make of today except that Con-ger-us must be over.
Your Tired Pony,
Louie
*        *        *
CONGRATULATIONS TO EMMIE AND LOUIE FOR PERFORMING TOTALLY BRIDLELESS AND PLACING THIRD!
Wondering who Louie is? Watch the video to see: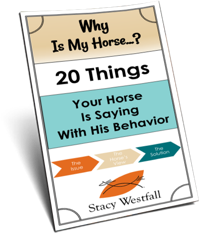 FREE PDF DOWNLOAD
WHY IS MY HORSE...?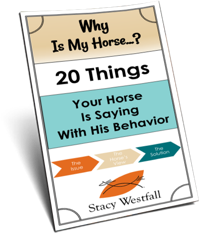 Free PDF Download "Why is my horse...20 things your horse is saying with his behavior"
PDF will be delivered to the email address you enter as will weekly tips from Stacy. Totally free. Unsubscribe anytime.