The 2013 Congress, Weaver Freestyle was a complete sell out. This mom gave up her ticket to her daughter's friend. She then
brought a book and sat on a bench outside to wait the two and a half hours. After two hours of reading Stacy and Jesse Westfall walked up and sat down beside her. Laughing she said, "My daughter is never going to believe this."
So a picture was taken…and then texted from mother to daughter. The girls quickly appeared and everyone had a good laugh! What a great MOM!
Watch the video below to see the story: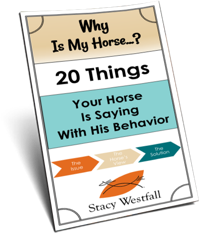 FREE PDF DOWNLOAD
WHY IS MY HORSE...?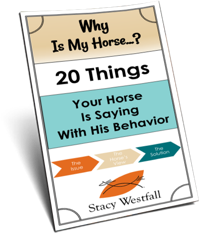 Free PDF Download "Why is my horse...20 things your horse is saying with his behavior"
PDF will be delivered to the email address you enter as will weekly tips from Stacy. Totally free. Unsubscribe anytime.