Episode 140: Uncollected-Is that resistance, stiffness and tripping mental or physical?
I recieved an email awhile back that asked a short question. Here is what was written.
"The biggest question I can't seem to get a clear answer for is "how do I ask for the collection?"
It is such a short…and seemingly simple question. I explain the underlying issue of collection and why the answer isn't as simple as applying a few aids correctly.
I explain what collection is NOT and how to identify horses that may be struggling with balance. Sometimes the 'resistance' that a rider feels is actally a sign that the horse is unbalanced…and needs a physical fitness routine.
Links mentioned in podcast:
Episode 132: When would I start introducing collection to my horse?
Episode 133: Collection: Western vs Dressage
SUBSCRIBE TO THE PODCAST HERE: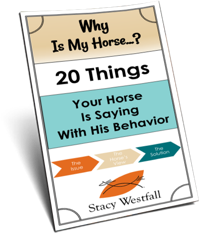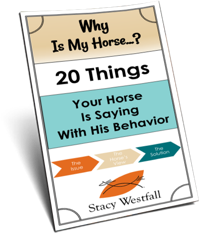 Free PDF Download "Why is my horse...20 things your horse is saying with his behavior"
PDF will be delivered to the email address you enter as will weekly tips from Stacy. Totally free. Unsubscribe anytime.