Episode 139: Teaching high energy horses to wait and low energy horses to be ready
Are you naturally a low energy or high energy person?
Is your horse a naturally low energy or high energy horse?
How does this impact you training the horse?
Sometime people solve this issue by buying the 'opposite' horse.
High energy person=low energy horse
Low energy person=high energy horse
Some people solve it by buying the matching energy horse.
What if you…and the horse…both learned to be both?
Links mentioned in podcast:
Want to watch the FREE student review video on 'Bend & Counterbend'…Click here and scroll down to video
SUBSCRIBE TO THE PODCAST HERE: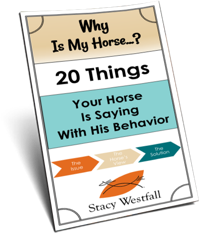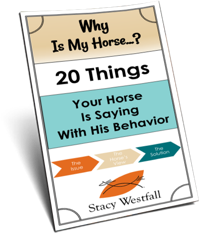 Free PDF Download "Why is my horse...20 things your horse is saying with his behavior"
PDF will be delivered to the email address you enter as will weekly tips from Stacy. Totally free. Unsubscribe anytime.