One of the joys of packing has been discovering, or rediscovering, things. Notes from my husband, things written by the kids, and old photos.
I don't remember this photo. Judging from the belt buckle and the weather it was taken during the summer just after I won Road to the Horse in the spring, 2006. That means it was taken BEFORE the 'famous' ride Roxy and I did together in October. I don't know who took it. It was printed through Shutterfly and shipped to me with a simple note, no signature.
Thank you, whoever you are, for sending me this memory.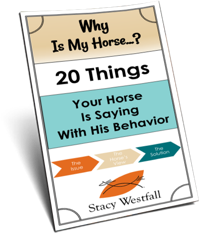 FREE PDF DOWNLOAD
WHY IS MY HORSE...?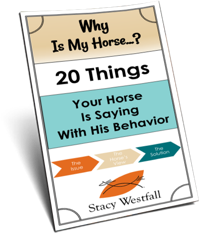 Free PDF Download "Why is my horse...20 things your horse is saying with his behavior"
PDF will be delivered to the email address you enter as will weekly tips from Stacy. Totally free. Unsubscribe anytime.