Happy Valentine's Day and happy moving day!
We officially moved out of our house in Ohio today and our first stop it Texas…but the midwest isn't done with us yet. We planned on driving 374 miles in six hours (per map quest)….but add snow into it and we managed to drive 181 miles in six and a half hours.
On the up side, we haven't had a reason to stay at a horse motel this close to (our former) home. We had already arranged a horse motel, thanks to horsemotel.com, but when the travel slowed to a max of 40 mph we began a new search.
We try to schedule ahead but with weather issues that sometimes isn't a choice. We were happy to find Cuttin'
Up Stables and Mike and Melinda Gerrish. They were very understanding about the weather…especially considering that we were calling on Valentine's Day!
Maybe the best part was that Mike was kind enough to offer to help us in the morning if we have trouble loading our horses, lol! Turns out not only does he like to ride cutting horses….he also likes verbally 'cuttin' up'….lol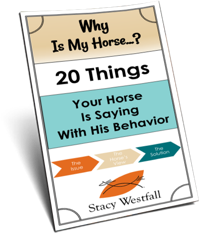 FREE PDF DOWNLOAD
WHY IS MY HORSE...?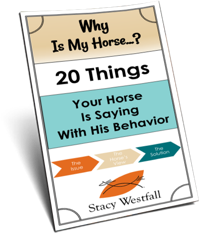 Free PDF Download "Why is my horse...20 things your horse is saying with his behavior"
PDF will be delivered to the email address you enter as will weekly tips from Stacy. Totally free. Unsubscribe anytime.