When is the last time you did something you knew better than to do…but did it anyway? My answer is yesterday. Yesterday I stuck my finger into a horses mouth while his mouth was open. I know better than to do that. I know the proper way, and when, to reach into a horses mouth to check their teeth…and I followed none of it.
I guess this happens in other areas of life, like touching something hot when you really knew better, but it still begs the question; why? Maybe I was mentally distracted, tired, or just not thinking. I don't know.
But to answer the frequently asked question, "Do professionals like you still make mistakes?"
YES.
P.S.-typing is a total pain…in more ways than one!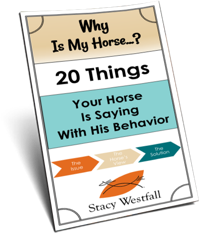 FREE PDF DOWNLOAD
WHY IS MY HORSE...?
No one taught you the skills you need to work through these things.
Riders often encounter self-doubt, fear, anxiety, frustration, and other challenging emotions at the barn. The emotions coursing through your body can add clarity, or can make your cues indistinguishable for your horse.
Learning these skills and begin communicating clearly with your horse.
Click here to learn more.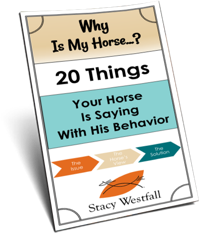 Free PDF Download "Why is my horse...20 things your horse is saying with his behavior"
PDF will be delivered to the email address you enter as will weekly tips from Stacy. Totally free. Unsubscribe anytime.