"Stacy… since Popcorn is trained SO well… do you ever wonder if a beginner rider riding him … does/will it confuse him??"-Lesia L.
Years ago I was riding Popcorn at home and I was feeling slightly frustrated. I didn't exactly have the words to explain what I was experiencing but thankfully my husband, who knows me well, was riding with me. I explained that I was feeling frustrated but couldn't express exactly why. He asked what I was trying to work on. I replied I wasn't sure what I should work on. He suggested that maybe I needed to accept Popcorn for who he was and that, in a way, his training was done. As soon as he said it I knew it was right. Although I was not frustrated by Popcorn himself, I was a bit at a loss because I knew that he had reached his maximum level in many areas. He was never going to slide like Roxy or spin like Vaquero even if I trained him for several more years. I felt free to enjoy Popcorn for who he was, including the fact that he wasn't going to learn much more.
Although I say Popcorn wasn't going to learn much more he had already learned, and earned, a lot. He was the horse that I won The Road to the Horse with. He is the only Road to the Horse horse to earn his AQHA Register of Merit in Performance (Reining). Plus, he was made into a Breyer horse. He has traveled thousands of miles in the US and Canada with me.
After the conversation with Jesse I focused on ways that I could use the training Popcorn had. We then went on to move up through the levels of mounted shooting from Level 1 to Level 4 (there are 6 levels). We also trail rode every chance we got.
In the last two years of riding Popcorn I became suspicious that his age was starting to show a little. Popcorn has always been a very gritty, fast horse that loved to run hard. Early on I would have to bring him in from the pasture because he would run and play so hard that he would make himself sore. Around the age of 10 this subtly started to change. Even vets couldn't see what I could feel so I just followed my gut and adjusted his use accordingly.
Last year I had Popcorn looked at again. Again his symptoms were very infrequent which makes diagnosing tough on the vets. After an hour long exam and several x-rays the vet detected subtle navicular changes. This fit with the occasional misstep that I was feeling. The vets said I could continue using him because the changes were probably going to continue to progress at the same rate no matter what. I appreciated them telling me this but I didn't totally agree.
I couldn't bring myself to ride him the same way I had in the past. We did keep riding because exercise is good for him but I slowed things down. We stopped mounted shooting and did trail riding or I would play on him bareback. I started teaching him more tricks. Things were good…but Popcorn had more to offer.
Popcorn is one of the smartest horses I know. He is highly intelligent. He is not always easy because he is also strong willed but he is kind both to other horses and to humans. He had all the right qualities to make an amazing lesson horse. I know that riding well trained horses helped me learn more than what people told me. The first time you feel a correct spin, a series of straight line lead changes, or a well executed roll back, your body and mind remember that feeling and it makes it easier to train the next horse you ride. Popcorn was perfectly prepped to be that horse.
I have had a relationship with Miracle Mountain Ranch for years. Jesse and I have been to marriage retreats there and our boys have gone to summer camp there for years. They are also approved as a Private Licensed School in the state of Pennsylvania with students that live on campus for almost a year at a time…and one of their areas of training is equine. It was a perfect fit.
Will Popcorns training be affected? Some. The bigger question is…does it matter and how much will he change?  It doesn't matter to me because I will own him forever. How much will he change? My guess is a little but not much. He probably won't be held to standards that are quite as high as he has had in the past…but I bet he will enjoy it. In fact, I know he is enjoying it. He sends me texts (with a little help) and I have stopped by to see him.
The questions I asked myself were; "Will Popcorn be happy? Does he have something to offer? Will it benefit both parties in the long run?" The answers were yes, yes and yes…which makes it a win-win-win situation.
[/et_pb_text][/et_pb_column][et_pb_column type="1_3″][et_pb_text admin_label="Text" saved_tabs="all" background_layout="light" text_orientation="left" text_line_height="2em" use_border_color="off" border_color="#ffffff" border_style="solid"]
Check out Stacy's full line of DVD's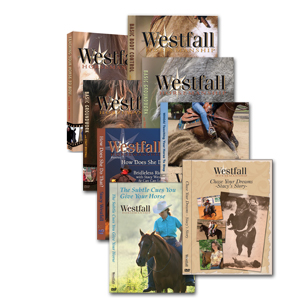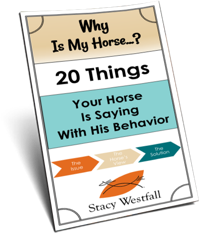 FREE PDF DOWNLOAD
WHY IS MY HORSE...?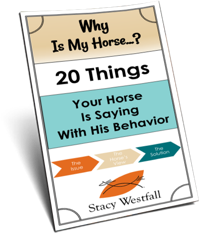 Free PDF Download "Why is my horse...20 things your horse is saying with his behavior"
PDF will be delivered to the email address you enter as will weekly tips from Stacy. Totally free. Unsubscribe anytime.