What is the furthest you have hauled a horse without unloading? Where do you unload? Have you ever seen someone unload in a situation you thought was
dangerous?
I have written several blogs about traveling with horses.
Plus, I did an entire series of trailer loading videos, sponsored by Tekonsha (they make brake control systems for horse trailers) that is available on YouTube;
I personally don't unload on the road very often for safety reasons. I do evaluate my horse and what kind of shape they are in, as they claim that riding in a trailer is roughly equivalent to a horse walking; 2 hours in trailer is similar to the horse walking for 2 hours. I have even been known to borrow a stock trailer if I felt that the horse needed to be able to move around more than they can in a slant load. I think each situation is different but I would love to hear how you handle hauling also.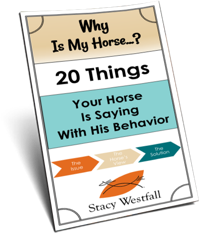 FREE PDF DOWNLOAD
WHY IS MY HORSE...?
No one taught you the skills you need to work through these things.
Riders often encounter self-doubt, fear, anxiety, frustration, and other challenging emotions at the barn. The emotions coursing through your body can add clarity, or can make your cues indistinguishable for your horse.
Learning these skills and begin communicating clearly with your horse.
Click here to learn more.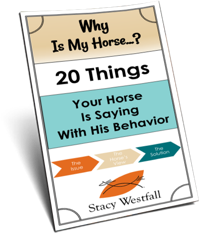 Free PDF Download "Why is my horse...20 things your horse is saying with his behavior"
PDF will be delivered to the email address you enter as will weekly tips from Stacy. Totally free. Unsubscribe anytime.