This photo showed up on my Facebook page with the question, "Why didn't the mare have a pinto foal?"
Color is a complicated subject most of the time. I wrote a blog about what colors Roxy produced which also included a link to a "coat color calculator" which is an interesting tool to play with.
If one of the horses involved is homozygous for a dominant color or color trait then things get a little easier because you can guarantee that all the foals produced will carry that trait. In paint horses it is possible to have a homozygous paint but just because a horse is a paint doesn't guarantee it will produce color. The paint horse shows even have classes for solid Paint bred horses.
Here is a link to a page about what creates a homozygous Paint horse. I also found this page that has some great info on homozygous or not homozygous as it relates to many colors including black, dun, roan and gray…it is an interesting read.
If predicting color were easy I would be a happy camper! Someday I want to have a painted reining horse but for now I am sticking with versions of dun due to genetics. Why do I say this? Because Roxy's mother was a dun and all the foals she produced, except Roxy, were black pointed duns. Roxy's sister, Maggie, shown in the video below has produced 100% duns so far with Newt being a red dun and all others being black pointed duns.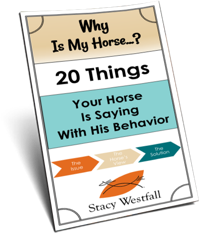 FREE PDF DOWNLOAD
WHY IS MY HORSE...?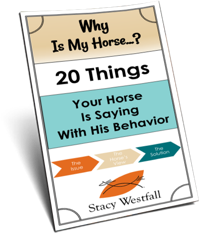 Free PDF Download "Why is my horse...20 things your horse is saying with his behavior"
PDF will be delivered to the email address you enter as will weekly tips from Stacy. Totally free. Unsubscribe anytime.