Swimming horses was something I did pretty much every summer as a kid. For most of my life before leaving for college I lived beside a lake and had easy access to horse friendly water.
My mare loved to swim. She enjoyed the water so much that upon walking knee-deep she would then stick her nose fully underwater, almost up to her eyeballs, and then blow bubbles! We swam the horses bareback and I loved how strong they felt in the water…and slippery. My mare also liked to swim to the deeper parts of the lake and then slowly let her hindquarter sink deeper and deeper. She would then push off as hard as she could and repeat…it was like riding a horse that was pretending to be a dolphin. Many times I had to pull her back toward shore as she was convinced she could swim forever!
If I had access…I would be swimming my horses! Have you ever gone swimming on a horse? What did you like or dislike about it?
I can"t wait to go to Costa Rica in January and swim horses! Check out this video of the waterfall and horses that are waiting for our clinic in January. Put the clinic on your Christmas wish list…there is a non riding spouse discounted price too! To read more about the Costa Rica clinic or to place a deposit, click here.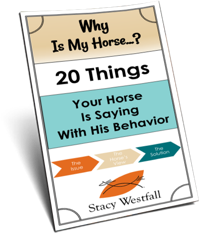 FREE PDF DOWNLOAD
WHY IS MY HORSE...?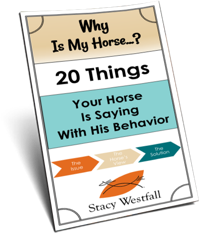 Free PDF Download "Why is my horse...20 things your horse is saying with his behavior"
PDF will be delivered to the email address you enter as will weekly tips from Stacy. Totally free. Unsubscribe anytime.