I wasn't really looking but a part of my brain must have noticed the horse in the stall on my left as I was walking down the isle toward my stalls. It wasn't one of my horses and I wasn't really looking but I turned around and went back to double check…something wasn't quite right with the horse in the stall.
He had obviously slipped out of his halter…and yet he kept acting like he was tied to the spot. Even as we laughed at him and opened the door to remove the halter the horse didn't move.
What silly things have you caught a horse doing?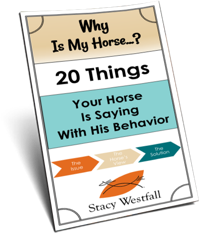 FREE PDF DOWNLOAD
WHY IS MY HORSE...?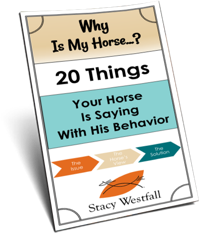 Free PDF Download "Why is my horse...20 things your horse is saying with his behavior"
PDF will be delivered to the email address you enter as will weekly tips from Stacy. Totally free. Unsubscribe anytime.