What did I gallop home and try? Keep reading and find out…but first, let me tell you a bit more about the clinic.
The clinic format was the same five riders each day. As an auditor, it was like watching five individual 45-minute riding lessons. Each horse was at a different level of training and with them riding back to back it was easier to see the progression of the training. The cost to audit was $100 per day or $175 for both days. At that price…most people had notebooks because they highly valued the experience, myself included! I'm not sure what the riders paid but I do know that hundreds of people applied.
Charlotte was great at adding stories while the horses and riders were walking to catch their breath between exercises. Some of the takeaways in my notebook are:
How it feels and how it looks are often different, which is why mirrors or a coach or video is necessary

too many long straight lines will make them flat, add lateral work or transitions

The horse should PUSH forward in medium trot

In downward transitions-make the last step yours

in lateral work-do speed transitions
A quote or saying that she said has always stuck with her was,
"Make the Impossible possible,

make the possible easy,

make easy elegant."
The thing that most surprised me about the masterclass was how much I enjoyed Charlotte's stories. Stories of riding with Carl for the last eleven years, of competing and handling the press and stories of her husband, who is not a rider, asking to ride her Olympic mount. The stories helped to paint a picture of who this amazing woman is and what it has taken to achieve her level of success.
The shortest summary I can give is, "If you have the chance to attend one of Charlotte Dujardin's classes…DO IT!"
P.S.- If you are reading this in 'real time' you will notice that I posted day 2 several days after the Day 1 review. I intended to post the next day…but instead spent extra time in the barn riding! I am happy to report that Willow is much 'springier' now…and not quite fully ready for the exercise I mentioned on the Day 1 recap.
The 'spring' is coming from the way that Charlotte phrased her idea of forward. She kept saying that you should feel the horse 'push' off the ground harder…but not fall forward. "Push not hover." Willow and I had been working on a tiny version of this…but after watching Charlotte coach I came home and stepped it up…and so did Willow!
As for the exercise in the former post, I can tell that we are not far off BUT it will go better, and I will be setting Willow up for more success if I work on the pieces individually. I have done each piece individually already but not in such a precise or confined pattern. Rather than practice the full pattern, I am choosing to refine each of the pieces and then come back to the pattern as a 'test' of how the individual pieces are fitting together.
Have you planned your continuing education for 2018? 
Stacy & Jesse are offering a limited number of clinics.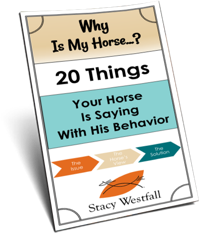 FREE PDF DOWNLOAD
WHY IS MY HORSE...?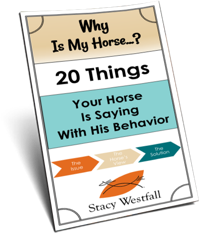 Free PDF Download "Why is my horse...20 things your horse is saying with his behavior"
PDF will be delivered to the email address you enter as will weekly tips from Stacy. Totally free. Unsubscribe anytime.