This was filmed just days after Gus first met the ball. What I find most interesting about this video is that you can 'see' Gus processing and thinking about what he was taught.
When I first showed him the ball he was on a 15′ rope and and I sent him back and forth by the ball. Every time he passed it but didn't focus on it I would turn him back around and send him back to it.
Eventually he would return to the ball on his own if he passed it. I rewarded him by leaving him alone if he faced the ball. He is a quick learner and he soon noticed that if he faced the ball there was no work.
You can see in this video, especially if you listen for me clucking, that when I cluck Gus knows that he needs to either get to work…or get the ball.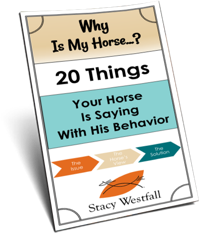 FREE PDF DOWNLOAD
WHY IS MY HORSE...?
No one taught you the skills you need to work through these things.
Riders often encounter self-doubt, fear, anxiety, frustration, and other challenging emotions at the barn. The emotions coursing through your body can add clarity, or can make your cues indistinguishable for your horse.
Learning these skills and begin communicating clearly with your horse.
Click here to learn more.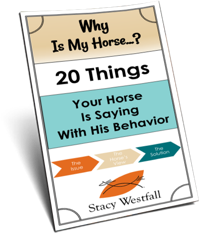 Free PDF Download "Why is my horse...20 things your horse is saying with his behavior"
PDF will be delivered to the email address you enter as will weekly tips from Stacy. Totally free. Unsubscribe anytime.