I am in the market for a horse. I will wait as long as I need to get the right one for me. Can you please help me? I am age 47 and have some experience just trail riding. I would like to go to local shows, mostly western pleasure. Kelly
I would recommend that you start going to the shows where you would like to eventually show and watch the people there. Look for a person who is coaching that you think you would like to be coached by. You can watch them at shows in the warm up pen without even telling them that you are 'interviewing' them. Then when you find someone you like, talk with them and the people riding with them. That would be the person to tak some lessons from. If you still like them and trust them then they can help you search for the perfect horse.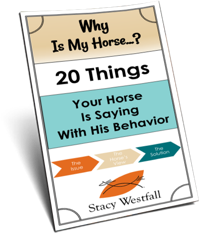 FREE PDF DOWNLOAD
WHY IS MY HORSE...?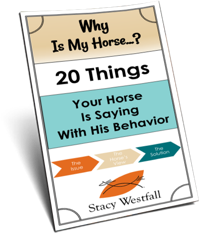 Free PDF Download "Why is my horse...20 things your horse is saying with his behavior"
PDF will be delivered to the email address you enter as will weekly tips from Stacy. Totally free. Unsubscribe anytime.