Most of us have experienced the feeling of being crazy, busy and maybe even a little (ok, a lot) stressed but have you ever experienced Peace?
I have a magnet that hangs on my refrigerator that says, "Peace is not the absence of noise, trouble or real work. It is to be in the midst of those things and be calm in your heart."
I have been on a personal quest for Peace for the last two years. One thing I have learned during that time is that although it is my goal to have Peace 'in the midst of those things' I have had to find Peace during purposeful  and planned quiet time. Quiet-Time now a days? Yep. If you want it, you will make it happen. Turn off the TV and most people will find and extra hour or more a day.
Speaking from my experience once I found Peace in quiet times it has is becoming easier to feel it "in the midst" because what I have learned is that Peace whispers….it doesn't yell.
John 14:27  Peace I leave with you; my peace I give to you. Not as the world gives do I give to you. Let not your hearts be troubled, neither let them be afraid.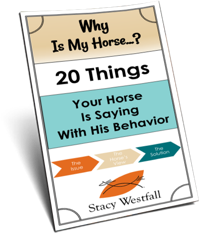 FREE PDF DOWNLOAD
WHY IS MY HORSE...?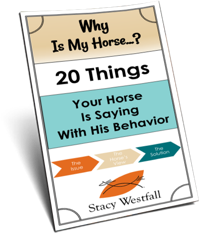 Free PDF Download "Why is my horse...20 things your horse is saying with his behavior"
PDF will be delivered to the email address you enter as will weekly tips from Stacy. Totally free. Unsubscribe anytime.