I saw the photo. I knew what to expect. The video still choked me up!
Don't be disappointed in the beginning of the video, after they play the video full speed they come back and do slow motion and different angles. My favorite is at one minute into the video, it is a head shot and you can see how when the horse landed from the jump the crown of the bridle slips forward over the ears and in the next few strides….it is going, going…gone!
At 1:18 you can see the rider looking at the problem but just after landing you can also see him looking to his next jump. In a split second he had to chose to go on or give up. Watch it. You can see it all on his face. What a great video!
Congratulations to Gregory Wathelet (BEL) and his mount Conrad de Hus who managed a clear round at the Prix du Qatar despite this challenge!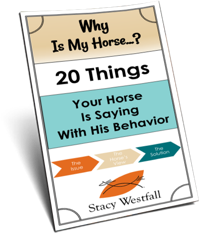 FREE PDF DOWNLOAD
WHY IS MY HORSE...?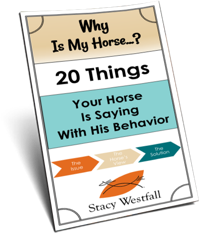 Free PDF Download "Why is my horse...20 things your horse is saying with his behavior"
PDF will be delivered to the email address you enter as will weekly tips from Stacy. Totally free. Unsubscribe anytime.