What makes you happy?
One of the best parts of this strangely 'nomadic' lifestyle we started living almost five months ago is that it is becoming easier to see what is important. Downsizing from our house and moving into a 950 square foot apartment was a huge move. Looking back on it, it was mostly 'stuff' that caused the stress.
We just moved again 12 days ago. As of today when people ask 'so where are you living' we can just say 'here.' Today, 'here' is Findlay, Ohio. In another 12 days we will be in Corry, Pennsylvania.
During each move we shed more stuff. Right now we are staying in a hotel for a short time and it is amazing how little you need to live. Having said that the boys and I just unpacked the entire horse trailer to get to a few of the essentials that were packed in the front, oops. (Jesse is driving back from judging ALL day yesterday-15 hours straight!)
The less stuff that we have…the easier it is becoming to see what makes me happy. I am sunburned (another oops), sweaty and covered with sand from riding horses and bikes all day.
This idea of having less and doing more isn't new. On a recent visit to Old Mans Cave in Logan, Ohio I found this inspiring plaque honoring Emma 'Grandma' Gatewood. At 67 she decided to take up hiking…a lot! She hiked the 2,000 mile Appalachian trail THREE TIMES!  Now there is a woman who knew how to pack light!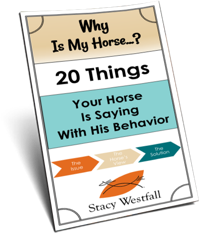 FREE PDF DOWNLOAD
WHY IS MY HORSE...?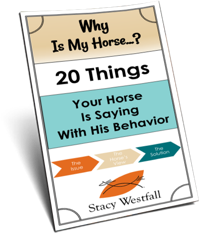 Free PDF Download "Why is my horse...20 things your horse is saying with his behavior"
PDF will be delivered to the email address you enter as will weekly tips from Stacy. Totally free. Unsubscribe anytime.